Curtis Dennis Portfolio
Here you can see some examples of my recent and current web design projects. I have included seven examples for this, the Curtis Dennis Portfolio page.
The first four examples are  class assignments from IADT, where I received my degree in Web Design and Development in 2013. 
---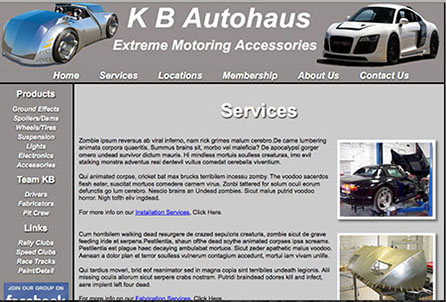 For this web design project, we had to start with a blank piece of paper, and ultimately create a 6 page site for the fictional KB Autohaus.
The site  pages are featured in the horizontal navigation, while the product pages are in the left hand navigation column. I also included their social media account (Facebook), and used in-text links in the page content section. Images are kept to right hand column, and also work as gallery links.
(HTML5 and CSS3 - 2012)
---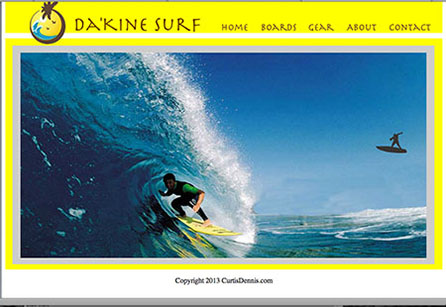 For this class, the task was to create another mini-site for a fictitious business, in this case Da'kine Surf. 
This project is built completely within Flash, and includes a custom surfer cursor I created from a vector illustration.
The biggest drawback to using Flash is that it doesn't work very well with the search engines, since the content is not separate from the images. (2012)
---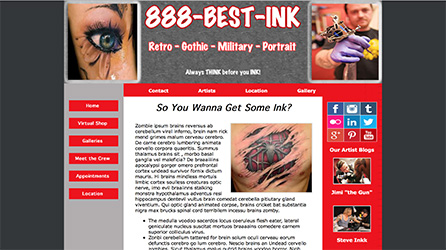 Another fictitious business, this time a "local tattoo shop". This site features a left-hand navigation, as well as a horizontal navigation at the bottom of the page header.  
This business relies heavily on social media to engage with potential customers, so I included the nine social accounts icons.
The tattoo artists images in the right hand column link directly to their individual galleries, to further increase customer engagement.
(HTML5 and CSS3 - 2013)
---
Information Overload, a "boutique bookstore" needed a site that would work well with mobile and desktop visitors.
Five genre categories were used to create the left hand navigation, with an additional horizontal navigation added in the page footer.
I placed the my account, sign-in, order status, and shopping cart buttons separate from the site navigation for increased usability.
(HTML5 and CSS3 - 2013)
---
The last example is the site you are visiting now, CurtisDennis.com.
For this site I elected to use a two-column design, as it works well on desktop and mobile devices.
Site navigation uses a left hand navigation column, with a horizontal navigation at the top of the header and again in the page footer, and a site blog is included as well.
I will continue to add more examples as I continue to complete projects for my customers.
In the meantime, please feel free to use the Contact Us form to discuss how I can help you with B2B copywriting, SEO, and web design services.
Curtis Dennis
Your Freelance B2B Copywriter