Harley Exteriors Review
We recently hired Harley Exteriors to replace 27 windows at our home, and here is my first-hand experience in working with them...
We purchased our "forever home" in March of 2018, on the south end of Camano Island. 
It wasn't new, and it certainly isn't perfect (not yet, but I am working on it!). The house was built in 1976, and one of the previous owners had the windows replaced in 1986.
In the mid-80's, aluminum-framed windows were all the rage. Their light weight, and the low cost of materials to manufacture them, made them incredibly popular.
All of our existing windows were operating (opening and closing) without any issues. The biggest issue was the fact that aluminum transfers outside hot and cold, to your home's interior.
In the winter, cold is transferred in while you are trying to keep warm. In the summer, the heat comes in when you are trying to cool down.
Ultimately, we decide to go with their "best replacement window" option. These are supposed to be a "direct-replacement" window unit. This option gave us a supposedly better window, and meant they wouldn't have to cut-back my real wood siding to install them, and then trim each window out with 2" x 2" trim. All that new wood trim would have to be primed and painted, after all the work was complete.
Each window cost (averaging numbers here) about $1200  for the new window, labor to remove the old window, and labor to install the new ones.
So, I am not talking about pocket change here.
For what I agreed to pay, I expected professional installers that had done this type of work before. I expected them to be on time in the morning, and to cover things like my hardwood floors, furniture, TVs and electronics, and anything else that could get dusted out while they were working in that room or area.
I also don't think it is unreasonable to expect them to clean up before they left at the end of the day. Both of my outside decks look like a sparkle bomb went off there.
And when you don't clean that mess up, it will get tracked into and throughout the house, which is exactly what happened. Even though they did use a shop vac to clean up, we all know that a shop vac does spew exhaust, loaded with dirt, dust, and metal shavings, back into the air.
A shop vac is great for cleaning on a job site. But when it comes to a person's house, you have to do up your game a bit. The installers should be using a vacuum with a bag to collect the dust and dirt, and it should have an extra exhaust filter so no dust or dirt gets past it.
So here are the photos from Monday, October 14, 2019, which was the first day of the project...
Harley Exteriors - Day One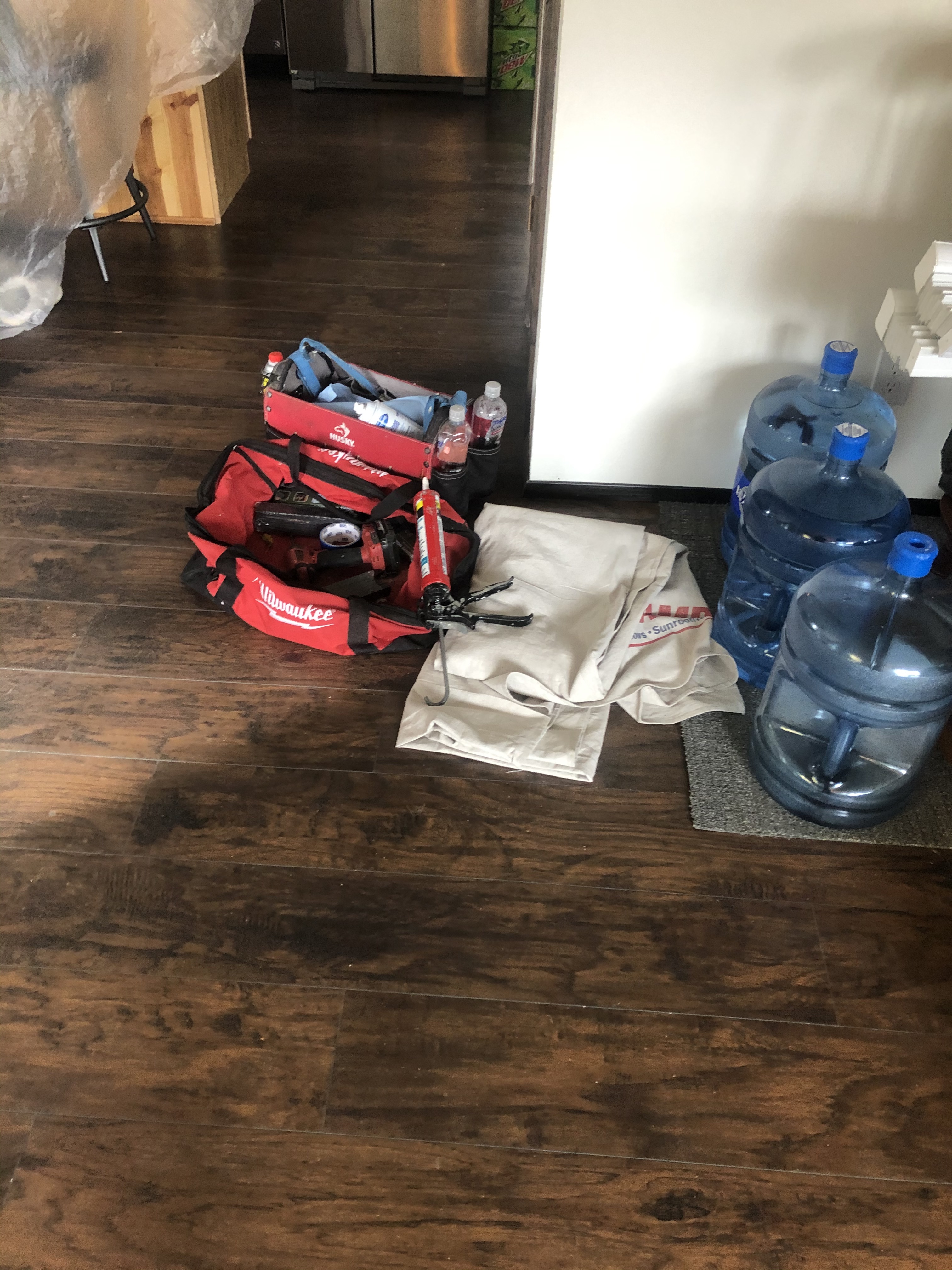 So, here in this photo you can see they have tarps or drop cloths, so why are the tool bags, which have metal feet on them, sitting on my hardwood floor?
Is it that they just don't know better, or they just don't care?
Here the tarps have been placed in front of the windows, but the tools bags have added a friend to their group, the caulking gun. 
When they were done with these two windows, they moved the tarp to the next wall with windows.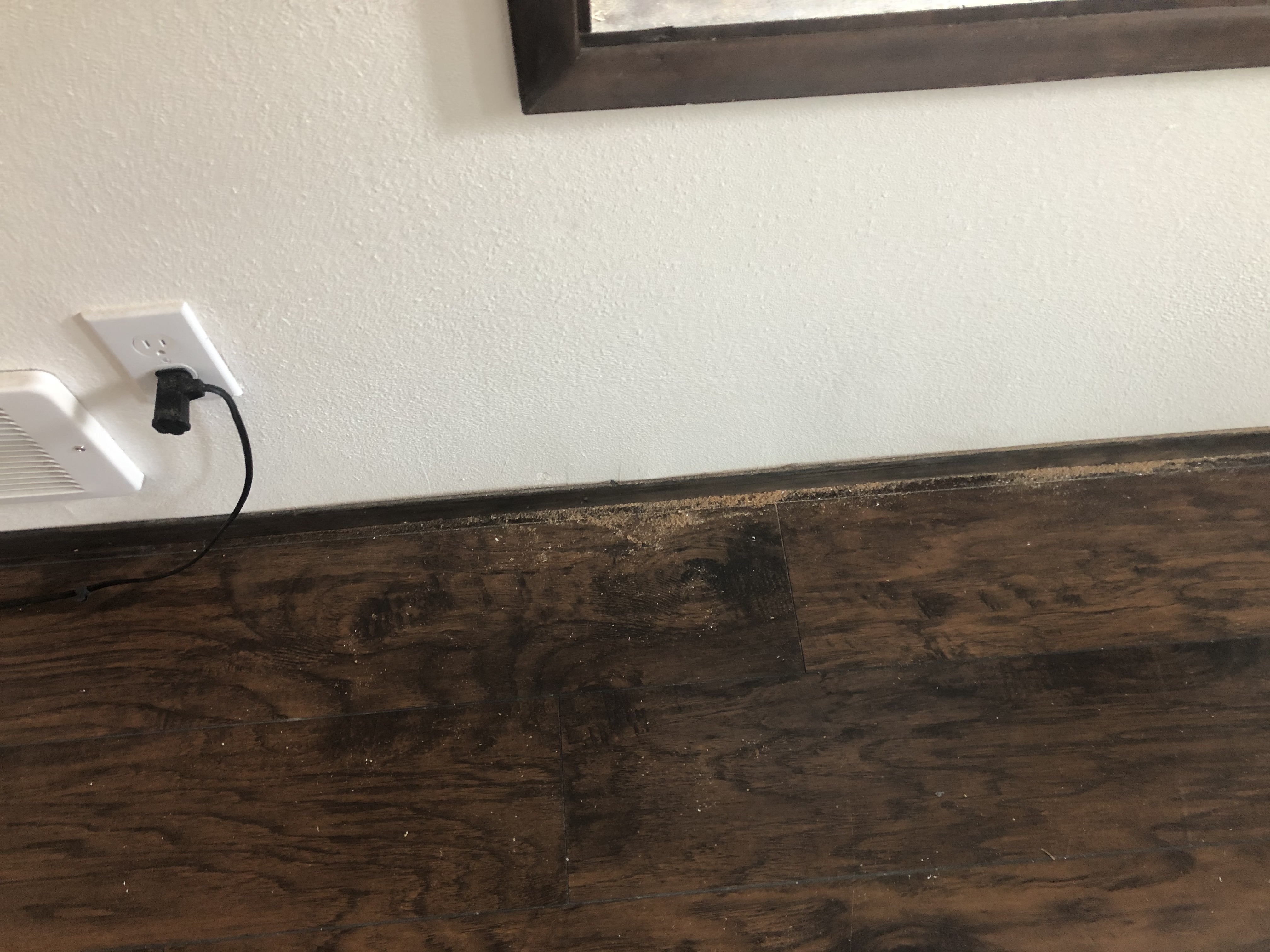 And here is the floor at the second window, same wall.
Common sense says that once you move the tarp you sweep up so it doesn't get tracked everywhere.
Good thing I have a license to operate a broom.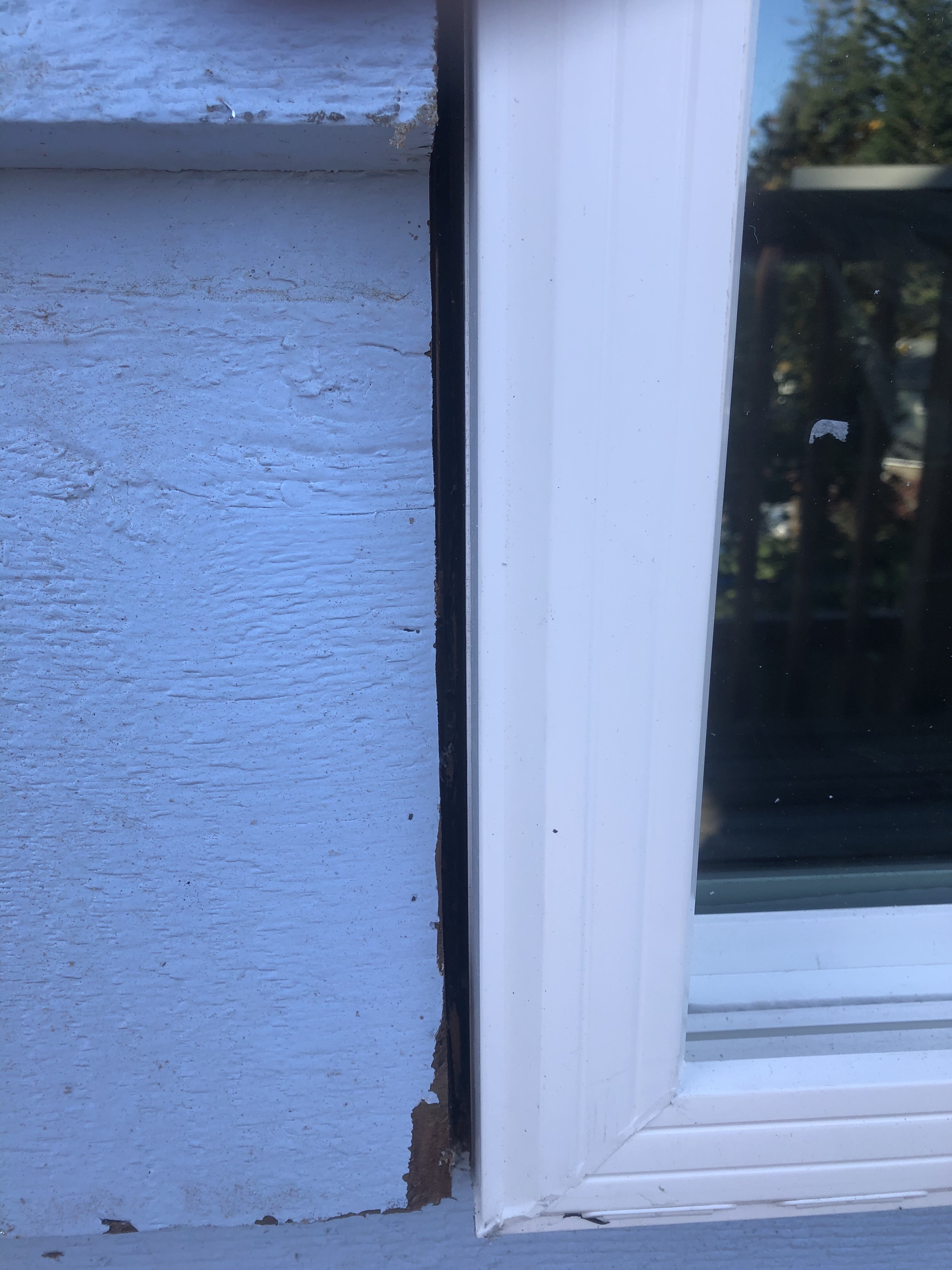 The installers decided to cut the existing frames free, using a circular saw with a carbide-tipped blade.
This is one side of a new window...
And here is the other side of the same window.
Those of us in-the-know understand that a carbide blade cuts a wider path than a non-carbide, or "standard" saw blade.
And Harley Exteriors thinks that they can just fill these gaps with a layer of expanding foam, followed by a very wide bead of caulking. That doesn't work for me.
Harely Exteriors - Day Two
Here you can see that they disconnected the gutter down tube so they could work on the window.
I totally understand moving the gutter, but put it back in place before you leave for the day!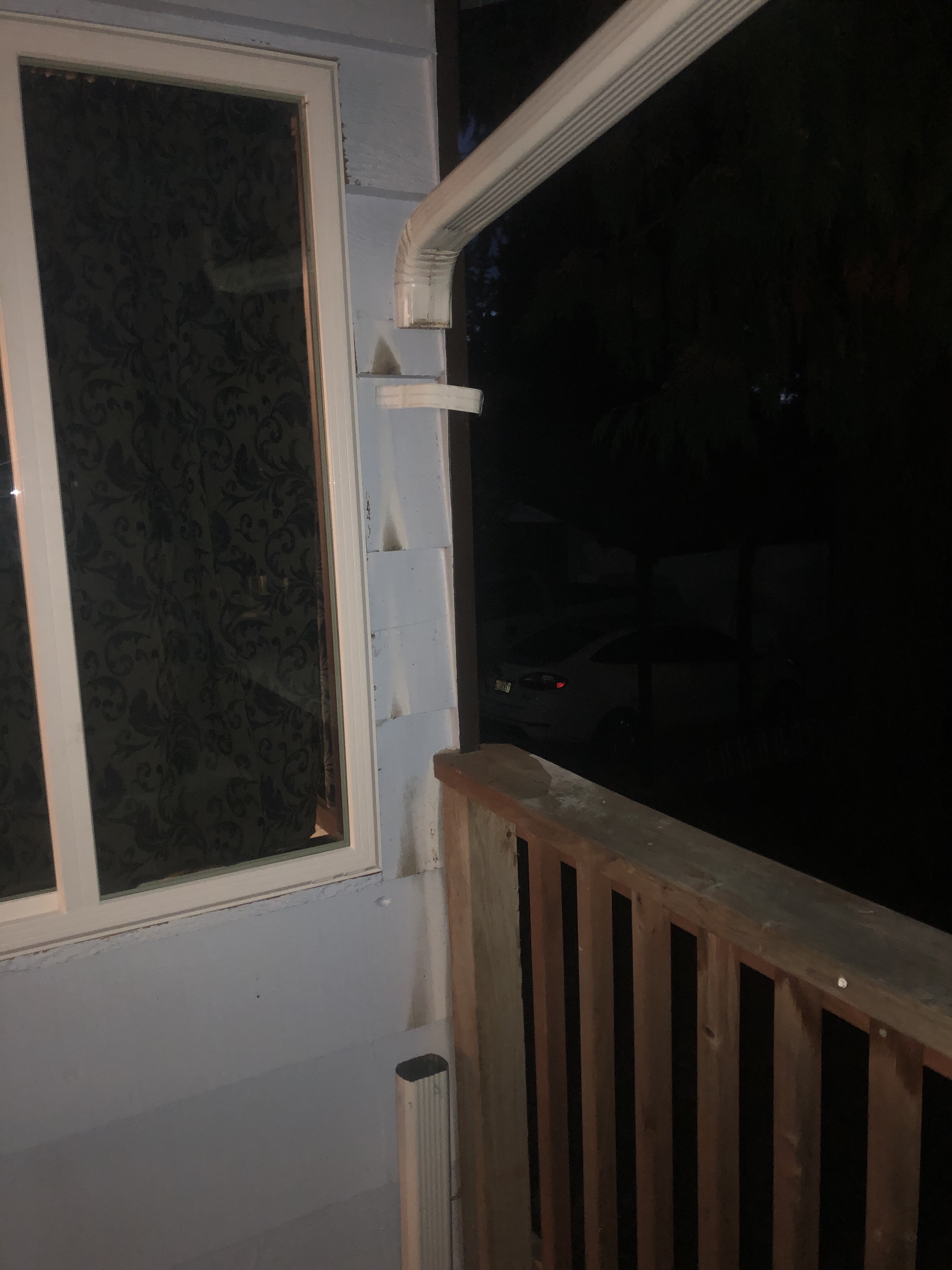 Another gutter down tube that needed to be moved.
The problem with both of these gutter images is that the installers left them disconnected when they went home on October 15.
An hour after they left, it started raining, and I had to go out and reconnect the gutters, so the rain wouldn't just run down these two corners of the house.
I just love paying Harley Exteriors to do a job, and then take care of their loose ends because their installers don't care about the job they do.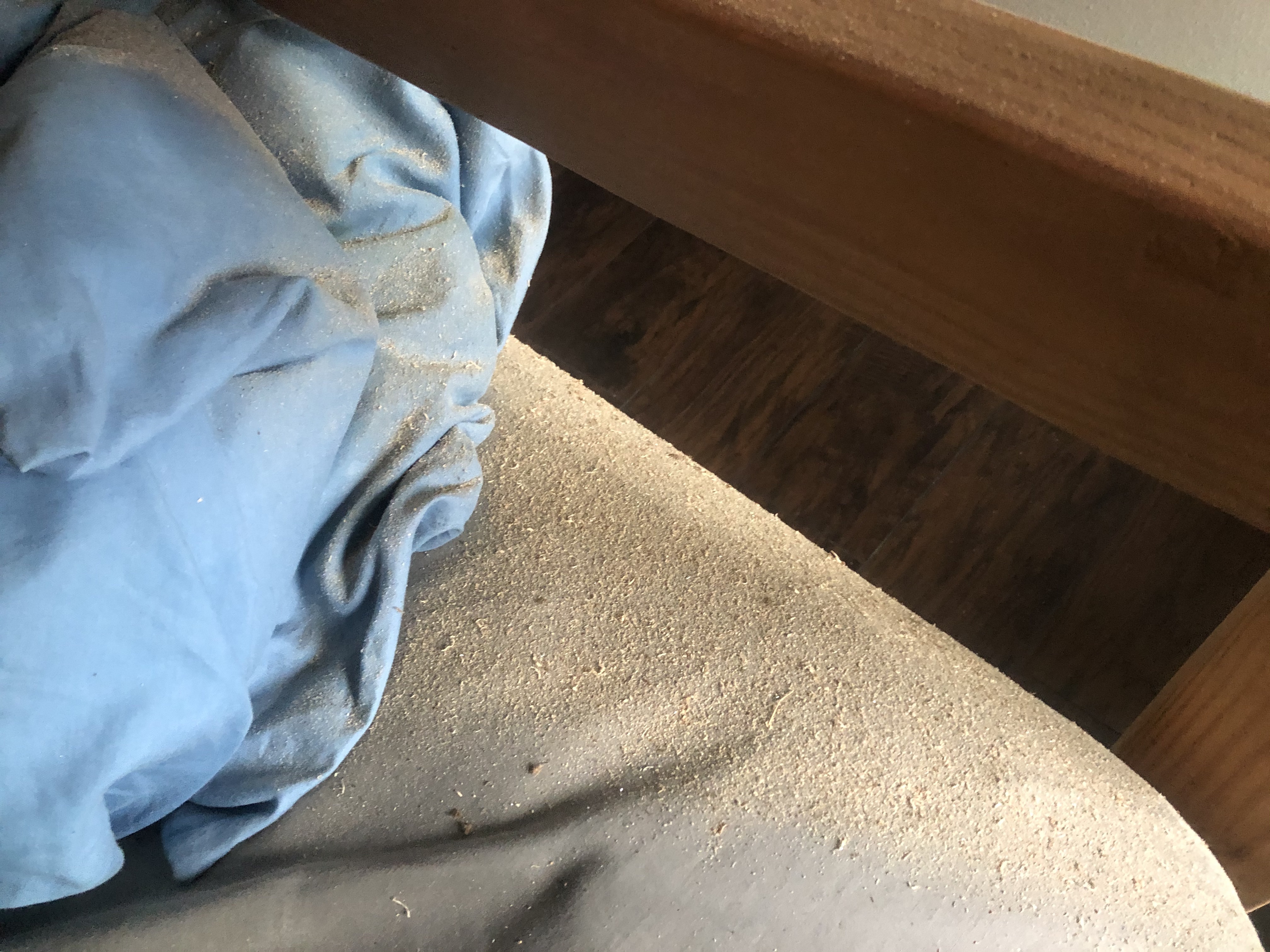 This is a photo of the mess left on our bed.
The bed was completely covered with plastic before they started the three windows in our bedroom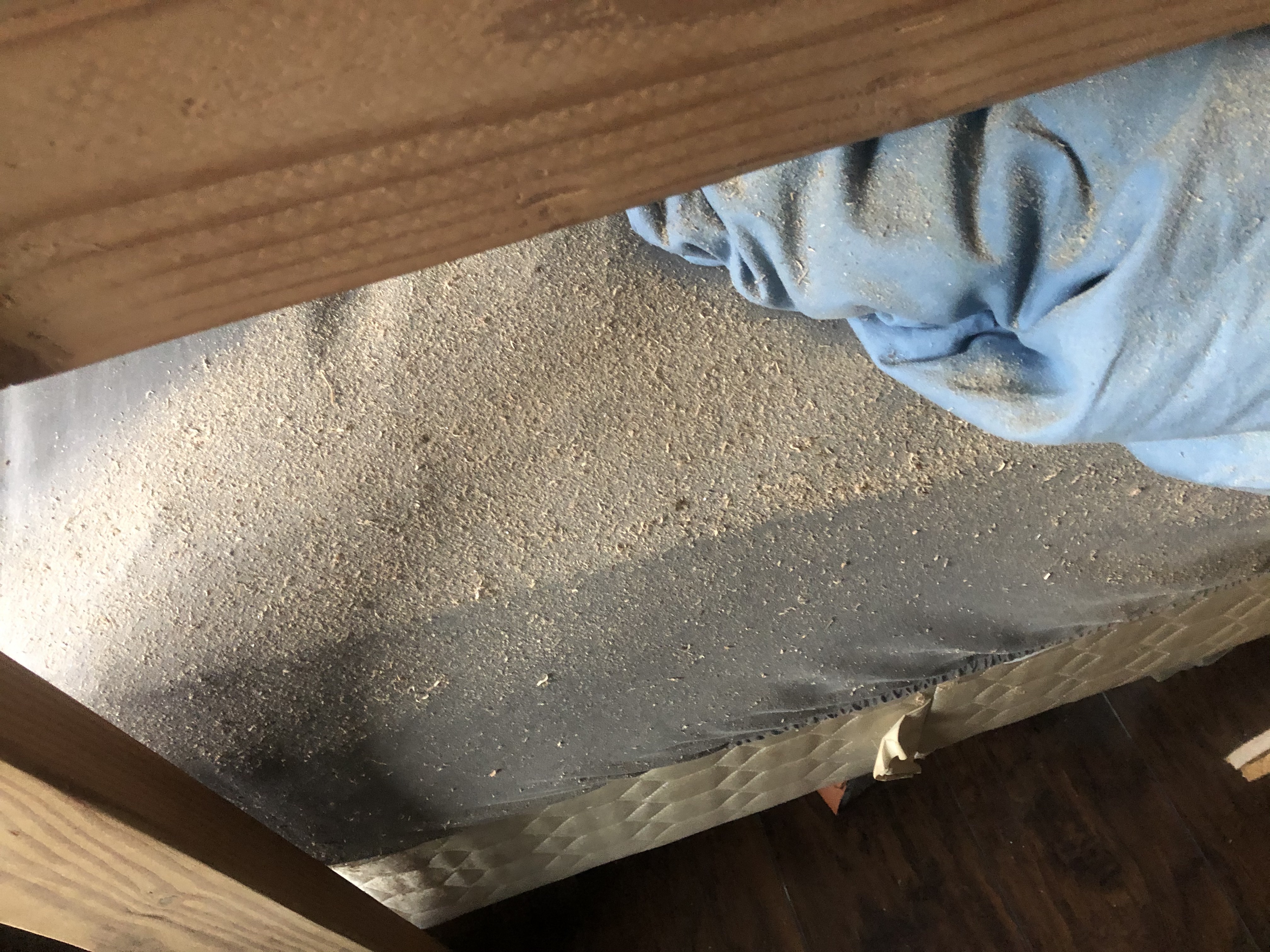 So what happened here?
The plastic moved while they were cutting with the circular saw, so all the dust came flying in through the window opening, and landed on the bed. 
They vacuumed the floor when they were done, but decided we should have to sleep in some sawdust for some strange reason.
At the end of the day Monday, I sent an email with these pics (and a lot more, these idiots completely trashed my house) to my Project Manager at Harley Exteriors.
I expected a call the next morning, but never got one.
At the end of the day Tuesday, I called them trying to reach my non-responsive PM. I ended up speaking with someone else who assured me that the PM would be talking to me at 9 am sharp Wednesday.
Guess what?
He didn't call me, I had to chase him down Wednesday morning at 10:20.
I was told he was on the other line, and would call me right back. The PM James Row finally called me back at 11:49 am.
We had a brief discussion about how his installers were doing absolute s#%t work at my house. They didn't level or plumb any of the new windows, they slapped them in the opening and screwed them into place.
No shims were used to center them up in the openings, so the interior window reveals don't match from left to right. 
I do expect that they will be removing and re-installing nearly every window the right way.
They will most certainly need to bring in a real clean-up crew to get rid of all of these metal shavings and the sawdust they have skipped over a few times now.
And I expect that they will be repairing or replacing some of my exterior wood siding to boot.
Long story short, I believe that Harley Exteriors does supply the best direct-replacement window on the market.
But the Harley Exteriors doesn't provide a quality installation to match the product that they are selling.
I will update this page after the PM visits my home and sees the work his employees did.
I will also let you know what they are going to do to rectify the shoddy installation that I paid them so much money for.
I am confident that they will fix these issues, and fire their "best crew" before they screw up somebody else's home.
How can I be so sure?
That's pretty easy, my BBB complaint is already filled out, I just need to hit "send" for that.
And, if that doesn't work, I will notify the contractors license board, and then file a claim against their performance bond.
Lastly, I will promote this web page through my 3 FB accounts, Yelp, Home Advisor, Angie's List, my Linked In account, and everyone that visits my other websites.
I will update this page within the next couple of days, and let you know if Harley Exteriors is a decent contractor who takes care of their customers and delivers on their promises.
And, if they try to do nothing to fix these issues, I will let you know that you should avoid Harley Exteriors like the plague.
Talk to you all soon,
Curtis Dennis