Your Freelance B2B Copywriter
Curtis Dennis here, your freelance B2B copywriter specializing in compelling copy and marketing content for companies related to the construction industry, including;
Contractors 
Architects
Building material manufacturers
Building material suppliers
Construction tools and equipment 
Contractor support services
Construction tech and safety
Commercial, residential, DIY, Offsite (pre-fab), and off-grid building projects and processes.
Conversing with your prospects and customers is easy since I can translate the trade talk, job-site jargon, and contractor-ese back into plain English for your website visitors and prospects. In addition, my commercial carpenter and contractor experience means that I have been your ideal customer for 30+ years. 
I have visited your website or blog numerous times, watched your videos, and possibly even subscribed to your newsletter.
I have seen your commercials on TV and read your flyers and promos at the supply house. 
I have purchased your products or services and used them on countless job sites, and many times in my home. 
Being your "ideal customer" allows me to create engaging content and copy that turns your ideal prospects into customers. Since 2004, my clients have seen how my unique hands-on construction experience and training from AWAI (proud to be an AWAI Verified! copywriter) benefits their business and bottom line.
And I have yet to meet a business owner or company that wouldn't benefit from a steady stream of new and repeat customers. 
Have you?
If your business or bottom line could benefit from an increase in;
Organic (search engine) traffic 
Website ranking 
Lead generation 
Sales
You can schedule a free, no-obligation discovery call to learn more about my services. 
Or you can send me an email to start a discussion as well.

More Than Just a B2B Copywriter
I also provide services beyond writing copy and content for my clients, like SEO. 
As a professional B2B copywriter, all of my writing and content include SEO optimization. It's not something I charge extra for or try to up-sell you on at another time.
Compelling content without an effective SEO strategy will be as successful as trying to teach a pig to sing. 
In the end, you'll end up wasting your time (and money) and annoying the pig (the search engines and website visitors).
I have always considered myself to be a freelance B2B copywriter. However, according to Google, I am also a construction copywriter, an industrial copywriter, a construction industry copywriter, and a building materials copywriter.
I honestly don't care what they call me, as long as they call me for their next project. 
But, to demonstrate my SEO skills, type one of the keywords above into a search box, and my website appears on Page One. That's not some weird coincidence or dumb luck; that's an effective SEO strategy doing its job.
This hands-on experience means that I can also help my clients with their SEO needs such as;
SEO copywriting
Organic traffic
SERP scores (Search Engine Results Page)
Internal and external linkages
Social media
And, while most freelance copywriters have only a basic understanding of the web design process, I obtained my degree in Web Design and Development in 2013.
This copywriter can also write and understand code (I prefer HTML 5 and CSS 3 for my sites). 
So my eyes won't glaze over when talking about web design, analytics, or the Google Core Vitals Update with other team members.
If my skills and experience seem like an excellent fit for your website or next writing project, we should talk. You can schedule a free, no-obligation discovery call to discuss your specific goals or immediate business needs. 
Or, send me an email, and we can get started that way too.
Talk to you soon, have a great day!

Curtis Dennis

Freelance B2B Copywriter and Content Marketer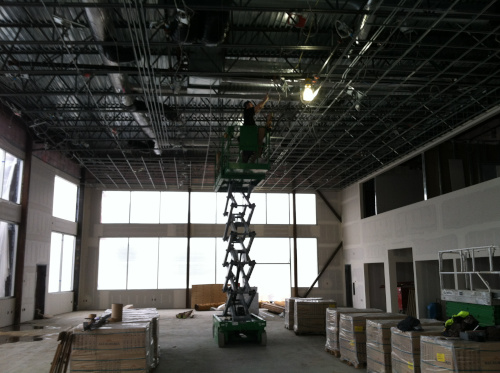 Installing suspended ceilings at the Roy Robinson Subaru dealership in Marysville, WA 2014. Scissor lift platform is 18' above the ground. So glad to have gone from commercial carpenter to B2B copywriter.